Music Friday: 'Your Love Is a Pearl,' Sings Joshua Kadison in 1994's 'Beautiful in My Eyes'
Welcome to Music Friday when we bring you hit songs with jewelry, gemstones or precious metals in the title or lyrics. Today, we shine the spotlight on one of the most requested wedding songs of the 1990s: "Beautiful in My Eyes" by Joshua Kadison.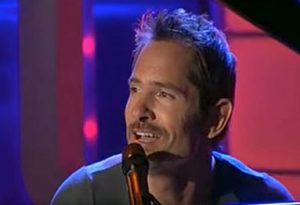 Kadison's lyrical love letter offers a sweet and sentimental prediction of how a relationship will become stronger through the years. Kadison pledges that even as they grow old together — and lines appear on their faces — she will always be beautiful in his eyes. To emphasize the concept of a "perfect" love, Kadison introduces June's official birthstone in the first verse.
He sings, "You're my peace of mind / In this crazy world / You're everything I've tried to find / Your love is a pearl."
Released in 1994 as the second single from his critically acclaimed debut album Painted Desert Serenade, "Beautiful in My Eyes" ascended to #19 on the US Billboard Hot 100 and charted in five countries. The song was Kadison's most successful single, even surpassing the performance of his breakout hit, "Jesse."
In reviewing the album, Bryan Buss of Allmusic described it as "chock full of odes to finding romance, longing for romance and losing romance." MyWeddingSongs.com rated "Beautiful in My Eyes" #7 on its list of "beautiful" songs to play on your beautiful day.
Born in Los Angeles in 1963, Kadison started writing songs at the age of 12. Four years later, he hit the road as a teenager, searching for life's answers after the tragic death of his mother. He made a living playing at bars in cities, such as Santa Barbara, Nashville and Dallas. His major influences included Cole Porter, James Taylor, Joni Mitchell, Cat Stevens, Nina Simone, Igor Stravinsky and Bela Bartok.
"All of that time on the road was great therapy for me," he told Billboard magazine. "It strengthened my soul and focused my songwriting — however corny that sounds."
At 30 years old, he got his big break when he was signed by EMI Records and released Painted Desert Serenade. VH-1 named Kadison the network's major video breakthrough artist of 1993.
Despite his commercial success, Kadison still didn't feel fulfilled.
"It felt as if I had the world at my feet but it wasn't what my soul wanted," he said. "I felt I had learned all I could from my experiences in the pop music field. The lessons of fame and success and all that go with them were amazing, but I knew there was much more to life I had to learn."
He took a long sabbatical to study music. First it was classical, then it was jazz. He did an apprenticeship with a Native American sound healer and worked with her for three years until her death.
"It was the strangest thing really. She found me as much as I found her," he said. "She told me I would be her last student. At the time, I didn't understand the profundity of that statement. From Otelia, I amplified my respect for both silence and sound."
Kadison still performs at the age of 54 and has a strong fanbase in Germany. Trivia note: Kadison dated the actress Sarah Jessica Parker in the early 1990s.
Please check out the video of Kadison's performance of "Beautiful in My Eyes." The lyrics are below if you'd like to sing along…
"Beautiful in My Eyes"
Written and performed by Joshua Kadison.
You're my peace of mind
In this crazy world
You're everything I've tried to find
Your love is a pearl
You're my Mona Lisa
You're my rainbow skies
And my only prayer is that you realize…
You'll always be beautiful in my eyes
The world will turn
And the seasons will change
And all the lessons we will learn
Will be beautiful and strange
We'll have our fill of tears
Our share of sighs
My only prayer is that you realize…
You'll always be beautiful in my eyes
You will always be
Beautiful in my eyes
And the passing years will show
That you will always grow
Ever more beautiful in my eyes
And there are lines upon my face
From a lifetime of smiles
When the time comes to embrace
For one long last while
We can laugh about
How time really flies
We won't say good-bye
Cause' true love never dies…
You'll always be beautiful in my eyes
You will always be (You will always be)
Beautiful in my eyes (Beautiful in my eyes)
And the passing years will show
That you will always grow
Ever more beautiful in my eyes
The passing years will show
That you will always grow
Ever more beautiful in my eyes