Music Friday: 'You Were a Shining Pearl in a Broken Shell,' Sings Thomas Dolby in 1992's 'Cruel'
Welcome to Music Friday when we bring you awesome songs with jewelry, gemstones or precious metals in the title or lyrics. Today, the brainy British performer who blinded us with science in 1982, returns with "Cruel," a deeply personal song about a one-sided love affair. Thomas Dolby, in a haunting duet with honey-voiced Eddi Reader, uses jewelry imagery to tell the story of an unrepentant boyfriend who refuses to change his ways.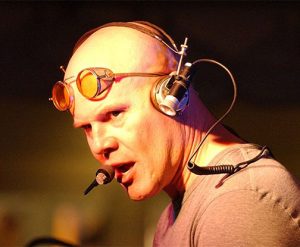 He sings, "You were a shining pearl / In a broken shell / Under moonlight / And I was cruel."
Dolby and Reader trade verses throughout the song, but join voices in a line about chasing false hope.
Together they sing, "But when my tears are washed away / You'll still be blind / Skin-diving / For jewels."
"Cruel" was released in 1992 as the second track from Dolby's fourth studio album Astronauts & Heretics. Although the song hardly achieved the success of his biggest hit, "She Blinded Me With Science," Dolby told PopMatters.com in 2008 that "Cruel" was one of three songs that best defined him as an artist.
When asked by PopMatters.com what he wanted to be remembered for, he answered, "My more obscure songs like 'Screen Kiss,' 'I Love You Goodbye' and 'Cruel.' I think it's inevitable when you have hits as big as I had with "She Blinded Me With Science" and "Hyperactive," that still get played on the radio 20 years later, people will tend to assume those songs define your music. But in my case, the music I really care most about is my quieter, more personal side."
He told PopMatters.com that he was pleased that his big hits gave people an inroad to discover the rest of his music, but lamented that his record label wouldn't take the risk of releasing his "quieter" songs as singles.
Thomas Morgan Robertson was born in London in 1958. The son of an internationally distinguished professor of classical Greek art and archaeology, Dolby sang in a choir at age 11 and learned to sight-read music shortly thereafter. The artist's stage name is a nod to Dolby noise-reduction cassettes. His schoolmates teased him about the Dolby cassette player that he carried everywhere.
Dolby is primarily known for synthpop, a subgenre of new wave music that first became prominent in the late 1970s. Dolby said he "got his hands on a kit-built synthesizer and never looked back." Early in his career, he promoted himself as a kind of a musical mad scientist. Later on, he would become a technology entrepreneur in Silicon Valley. Today, he's a Professor of the Arts at Johns Hopkins University.
Please check out the audio track of Dolby and Welsh songstress Reader singing "Cruel." The lyrics are below if you'd like to sing along…
"Cruel"
Written by Thomas Dolby. Performed by Dolby with guest vocal by Eddi Reader.
Cruel – what a thing to do
I've been cruel to you such a long time
And how can I hide my shame
'Cause there I go again
At the wrong time
And I know that it was just the fear of flying
And I know it's hard to keep myself from crying
But when my tears are washed away
You'll still be blind
Skin-diving
For jewels
You were a shining pearl
In a broken shell
Under moonlight
And I was cruel
And I know that it was just the fear of flying
And I know it's hard to keep myself from crying
But when my tears are washed away
You'll still be blind
Skin-diving
For jewels
Cruel – I've been such a fool
And I'll be missing you
Such a long time
I was cruel